US senator wants SEC's answers on destroyed files claim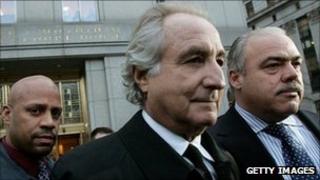 A US senator is demanding answers to an allegation that America's top financial regulator has destroyed thousands of preliminary investigation records.
Senator Charles Grassley has written to the Securities and Exchange Commission (SEC) to query the claims by an internal whistleblower.
The SEC is said to have destroyed files on initial inquiries linked to Bernard Madoff, major banks and hedge funds.
A spokesman for the watchdog said it did not need to retain every document.
According to an SEC attorney-turned-whistleblower, Darcy Flynn, the regulator has destroyed more than 9,000 files on preliminary investigations since the early 1990s.
The records, termed matters under inquiry, are said to include interviews and tip-offs about a range of alleged financial misconduct.
Mr Flynn told Sen Grassley the watchdog had destroyed files linked to Bernard Madoff, Lehman Brothers, Goldman Sachs, AIG, Wells Fargo, Bank of America, Deutsche Bank and hedge fund SAC Capital.
Sen Grassley, ranking member of the Judiciary Committee, wrote on Wednesday to the SEC asking if it routinely destroys documents on preliminary inquiries when it is decided that they do not merit a formal investigation.
He says such records could contain important information without which the agency might be greatly handicapped.
"From what I've seen, it looks as if the SEC might have sanctioned some level of case-related document destruction," Sen Grassley said in a statement.
"It doesn't make sense that an agency responsible for investigations would want to get rid of potential evidence."
SEC spokesman John Nester was quoted by AFP news agency as saying: "There's no requirement that every document obtained by an agency in the course of its work be retained."
Mr Flynn has presented his evidence of document destruction dating as far back as 1993 to three congressional committees in recent months, according to an article published on Wednesday by Rolling Stone magazine.
After the economic crisis in 2008, the SEC was accused of allowing the industry to regulate itself.
The BBC's Marcus George in Washington says the whistleblower's allegations are prompting some to question whether such evidence could have provided warnings about the financial crisis of 2008, or brought a halt to the multi-billion dollar Madoff fraud years earlier.