Ex-student Jared Cano held for Tampa 'school bomb plot'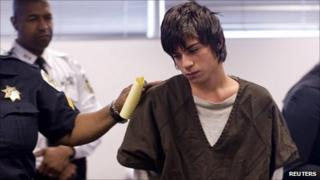 A "potentially catastrophic" bomb plot hatched by an expelled high-school student has been thwarted in the US city of Tampa, Florida, say police.
Jared Cano, 17, is accused of planning to plant a device at Freedom High School in north Tampa and detonate it as students returned on Tuesday.
Fuel, shrapnel and plastic tubing, along with timing and fusing devices were found at his home, police said.
The teenager had previously been arrested on several juvenile charges.
Mr Cano, who had been expelled from the school, was hoping to kill or injure more people than the 1999 shooting by two students at Columbine High School in Colorado, police chief June Castor said. That shooting killed 12 students and a teacher.
'Drawings of rooms'
Mr Cano was arrested on Tuesday night after an unnamed individual "came forth with information" about the plot, said Ms Castor.
"That's what we need in this community, to have the citizens involved in keeping this community safe," she added.
"And that was a prime example of allowing us to avoid a very serious event yesterday."
In addition to the alleged bomb-making material found in his home, investigators also found drawings of rooms inside the school and statements about his intent to kill people, police said.
The "minute-by-minute" plot targeted specific school staff and any students who were nearby, police said.
The St Petersburg Times newspaper reported that when Mr Cano appeared in court on Wednesday he was asked by the judge if he had anything to say.
He began: "The plan wasn't...", but a defence lawyer interrupted and advised him to say no more, reports the newspaper.
He faces charges of threatening to throw, project, place or discharge a destructive device, possession of bomb-making materials and marijuana charges.
Freedom High School principal Chris Farkas told media that Mr Cano had been expelled in April 2010 because of a non-school-related incident.
He said of his former pupil's arrest: "Once I found out and saw the information and saw what was taken from the apartment complex, that was when the reality and the fear set in that this was a real situation."
The teenager has been arrested in the past for burglary, drug possession and weapons offences, according to police.
"We've been very, very familiar with him," Police Maj John Newman said.