Statue of Liberty to close for year of renovation work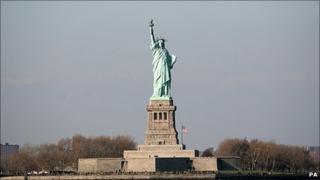 New York's iconic Statue of Liberty is to close for a year for renovations.
The 305ft (93m) copper statue needs $27.5m (£16.8m) in repairs, US Interior Secretary Ken Salazar said.
The National Park Service said new stairs and elevators would be installed within the 125-year-old statue, but Liberty Island would remain open.
The statue, dedicated in 1886, was given to the US by France. Most of the 3.5m people who visit Liberty Island each year do not climb the statue.
Visitors were barred from venturing up inside the statue in the wake of the 9/11 terror attacks, although they were allowed back into the observation deck a few years later.
However, officials now judge that out-of-date facilities make the statue itself, and not those visiting it, a safety risk.
"Two years ago, when we reopened Lady Liberty's crown to visitors for the first time since the 11 September attacks, I promised that we would continue to upgrade the interior to make it safer and more accessible for all," Mr Salazar said.
"With today's announcement, we are taking a major step in bringing a 19th Century icon into the 21st Century."
The statue is due to shut on 29 October, one day after a ceremony to mark 125 years since its dedication.
"It's disappointing," Vince Swift, president of the Statue of Liberty Club, told the New York Times. "But if it has to be any length of time, I'm glad it's only a year."
David Luchsinger, who runs the monument for the National Parks Service, insisted most visitors would not notice anything different about their visit to Liberty Island as they do not venture inside the statue.
"They're going to get the exact same experience," he told the New York Times.