Recycling bin accident kills Ohio woman Sheila Decoster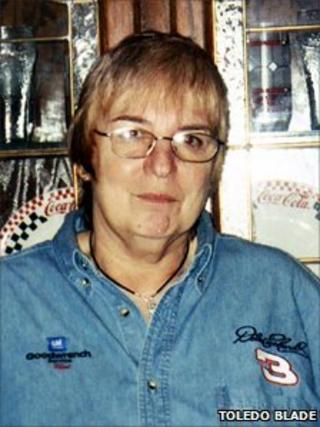 A US woman has died from asphyxiation after falling head first into a recycling bin, a coroner has found.
Sheila Decoster, 62, was discovered by her husband on Friday evening, upside down in a 65-gallon (295-litre) plastic bin at her home in Toledo, Ohio.
She was clad in her pyjamas and her slippers were on a porch by the bin.
She is thought either to have lost her balance and fallen off a porch into the bin or fallen in while trying to retrieve an object, an official said.
'Tried to get out'
"You can asphyxiate in minutes," Dr Diane Barnett of the Lucas County, Ohio coroner's office, told the BBC.
"But she had some bruises like she was trying to get out, like she was trying to rock it and tip it."
Mrs Decoster perished of positional asphyxia, in which the placement of her body in the rubbish bin prevented her lungs from filling with air, Dr Barnett said.
She had been standing over the bin on a porch that had no railing to obstruct her fall into the bin, the deputy coroner added.
Richard Decoster, her husband of 43 years, told the Toledo Blade newspaper he returned home from the shops at about 17:00 local time and saw his wife's leg sticking out of the bin.
"I just happened to look to the left and, honestly, thought it was a dummy," Mr Decoster told the newspaper.
"I shook her leg and called her name, and I knew she was gone."