Canada expels Libya diplomats and freezes bank accounts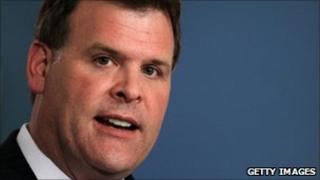 Canada has ordered diplomats at the Libyan embassy in Ottawa to leave the country within five days, and has frozen the mission's bank accounts.
Foreign Affairs Minister John Baird said in a statement that all remaining diplomats at the Libyan embassy were unwelcome in the country.
He said the step aimed to isolate Libyan leader Muammar Gaddafi's regime.
Canada recognises members of the rebel-led National Transitional Council as Libya's legitimate representatives.
"These people now have five business days to vacate the embassy and leave the country," Mr Baird said in Tuesday's statement.
Canada is part of the Nato mission that has conducted an aerial bombing campaign against Col Gaddafi's apparatus of power since March.
Mr Baird met Libyan rebel leaders during an unannounced visit to Benghazi in June, during his first trip as foreign minister.