Republicans survive key Wisconsin recall elections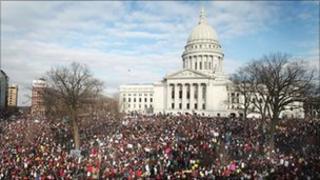 Wisconsin Republicans have seen off a Democratic bid to control the state senate, winning polls that could shape agendas for 2012's presidential vote.
The "recall" elections were prompted by Republican Governor Scott Walker's move to curb public employees' union rights.
Opponents gathered enough signatures to force six state senators who had backed Mr Walker to face the vote.
But four of them held their seats, resulting in the Wisconsin senate remaining under Republican control.
Despite the setback, Democrats said they planned to go ahead with an attempted recall of Gov Walker in November.
Further votes will be held next Tuesday, when two Democratic state senators also face recall elections, after Republicans gathered enough signatures to force them to face the vote.
But these polls cannot affect the overall battle for control.
Big money campaign
The votes were regarded as a referendum on both Mr Walker's conservative policies and a gauge of public opinion on the two main parties less than a year after Republicans made sweeping gains in Wisconsin and many other states.
"Everybody should have the right to be in a union," Tony Spencer, an out-of-work carpenter who voted for the Democratic candidate challenging Republican State Senator Alberta Darling, told the Wisconsin State Journal newspaper.
"I came out to stop all the union-bashing stuff."
But another voter, Ross Birkigt, said Democrats backing the recall had thrown "a cry-baby fit" when they did not get their way.
"It's a shame that all of sudden this happens and that a lot of special-interest money gets poured into it," he said. "I'm kind getting sick of seeing this stuff on TV every single minute."
About $30m (£18m) has been spent on campaigning in what was billed as one of the most expensive US state legislative votes in history.
Republicans had argued the measure to limit the collective bargaining rights of government employees was necessary to close budget gaps.
But Democrats said the law was an attack on unions.
The legislation, which requires state government employees to pay more for their healthcare and pensions, was signed earlier this year by Mr Walker.
It ignited weeks of furious protests by tens of thousands of government workers and their supporters.
Republicans won control of both houses of the legislature and the governor's office nine months ago, and the state government has passed Republican-supported bills with ease since January.
Last month, the Wisconsin Supreme Court upheld the bargaining-rights law by a 4-3 decision.