FAA shutdown: Obama urges Congress to settle latest row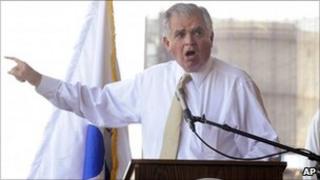 President Barack Obama has again urged Congress to end a funding row that has partially shut down the body which oversees US air safety.
He said it was a "lose-lose situation" that could cost the government $1bn (£610m) in uncollected air fare taxes.
Many lawmakers left for summer breaks after the US debt crisis was resolved, without extending the Federal Aviation Administration (FAA) budget.
About 70,000 construction workers on airport projects have had to stop work.
Safety inspectors are now being asked to work without pay. Air traffic control is not affected.
'Get this done'
Nearly 4,000 FAA employees, including engineering technicians and computer specialists, have been made to take a temporary leave of absence.
The FAA was forced into partial shutdown after its operating authority expired on 23 July.
The shutdown is costing the federal government some $200m per week in passenger ticket taxes that can no longer be collected, officials say.
Lawmakers are not due back from their annual leave until September.
President Obama said on Wednesday: "This is a lose-lose-lose situation that can be easily solved if Congress gets back into town and does its job."
When asked what he could do to step in, Mr Obama told reporters: "I have made calls to key leaders, and I am urging them to get this done."
A White House official later confirmed that Mr Obama had called House Speaker John Boehner about the issue on Wednesday.
Mr Boehner said the problem could be resolved if Senate Democrats would only accept $16.5m in air service subsidy cuts that the House last month attached to a bill to extend FAA's operating authority.
'Conservative hostage takers'
Senate Democrats opposed the cuts and went into recess on Tuesday until early September without voting on the bill.
A spokesman for Senate Democratic leader Harry Reid said the Senate would not allow House Republicans to "jam through a policy" on subsidies within a stop-gap funding extension bill.
He said the real issue was that Republicans wanted to scrap new rules which give airline employees greater trade union rights.
The partial shutdown could last at least until congressmen arrive back from their annual break.
But Mr Reid said on Wednesday it could be resolved sooner if Republicans agreed to a congressional procedure called unanimous consent that did not require lawmakers to cast votes in person.
He also said conservatives were "taking Americans hostage" by not passing the bill which would end the partial shutdown.
The FAA debate was overshadowed earlier in the week by last-minute legislation passed in Congress to increase the US debt ceiling and avert a financial default.
On Wednesday, Transportation Secretary Ray LaHood, a Republican, also said Congress should come back and pass on a short-term bill resolving the dispute.
"This is not fair to people. These are people that work hard, these are people right in the middle of construction season," Mr LaHood said.
"This is why people shake their heads when they think about Congress," he added.
Airline passengers are not being charged for ticket taxes, which average around 10% of each fare, while the political scuffle continues.
However, within hours of the shutdown on 23 July many airlines had raised their fares by the amounts equivalent to the taxes that were no longer being collected.
Mr LaHood responded to the hikes at a White House news conference in late July, saying airlines should not have their raised fares and that he had contacted major carriers to express his dissatisfaction.
The air service subsidy programme costs the federal government about $200m per year, about the amount the government lost during the first week of the FAA partial shutdown.