Kings of Leon cancel US tour amid 'problems'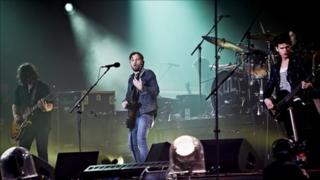 Kings of Leon have cancelled their US tour amid reports of problems within the band.
The cancellation comes three days after frontman Caleb Followill left the stage during a show in Dallas, Texas.
He said he was no longer able to sing because of "heat exhaustion and dehydration".
But his brother, bassist Jared Followill, said in a tweet that the band has "internal sicknesses & problems" that go beyond dehydration.
"I can't lie," he wrote. "There are problems in our band bigger than not drinking enough Gatorade."
Drummer Nathan Followill added in a separate Twitter message: "Not so good morning 4 me today. Ashamed & embarrassed by last night's fiasco."
The cancellation of the US tour was announced in a statement by the Nashville-based band on Monday.
It said the band members were "devastated, but in order to give their fans the shows they deserve, they need to take this break".
The band are to return to the road in Vancouver, Canada, on 28 September. The cancelled shows will not be rescheduled.
"Thanks to all our true fans for understanding and helping us through this hard time," Caleb Followill said on Twitter.
Kings of Leon, who are all family members and originally from Tennessee, have had huge global success with their singles including Use Somebody and Sex on Fire.
They have released five studio albums, the fourth of which - Only by the Night - was platinum selling.
The band won two Brit awards in 2009 as well as two Grammys in the same year plus another Grammy in 2008.