Ford recalls 1.2m F-series pick-up trucks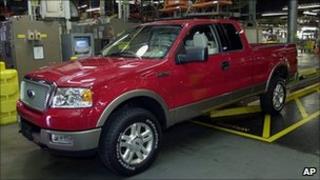 Ford is recalling 1.2 million pick-up trucks in the United States and Canada because of fears their fuel tanks could fall off and start fires.
The recall affects some versions of the F-150, F-250 and Lincoln Blackwood trucks built between 1997 and 2004 - in certain cold-weather states.
It is feared the straps holding the tanks on can be corroded by road salt.
Ford will advise owners with the affected vehicles to take them to a dealer to have the straps replaced.
The F-series has been one of America's best-selling vehicles.
Ford said this defect has caused eight fires, and one injury.