Fort Hood 'plot' soldier Naser Abdo defiant in court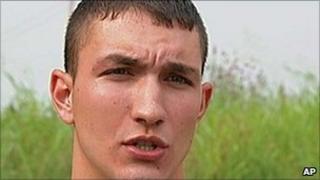 An Awol US soldier accused of plotting an attack on a Texas military base has been charged in court with illegal possession of a firearm.
Police arrested Pfc Naser Abdo in the town of Killeen, Texas, on Wednesday near the Fort Hood army base.
Authorities said guns and bomb-making materials had been found in the 21-year-old's motel room.
In court, Mr Abdo yelled out the name of a man accused of a gun rampage at the Fort Hood base in 2009.
Mr Abdo, a Texas native, refused to deploy to Iraq and Afghanistan from Fort Campbell military base in Kentucky before going missing on 4 July.
He was granted conscientious objector status in May 2011 after he said his religious beliefs would prevent him fighting in any war.
A criminal complaint unsealed in court on Friday alleged that Mr Abdo was in possession of a .40-caliber handgun, ammunition, various bomb-making components and an article entitled "Make a bomb in the kitchen of your Mom".
The complaint further alleged that Mr Abdo planned to assemble two destructive devices with the intention of detonating them inside a "unspecified restaurant frequented by soldiers from Fort Hood."
'Act of aggression'
As Mr Abdo left the federal court in Waco, Mr Abdo shouted: "Nidal Hasan Fort Hood 2009."
Army psychiatrist Major Nidal Hasan allegedly shot dead 12 soldiers and one civilian before police bullets wounded him in November 2009.
The Associated Press reported on Friday that Mr Abdo, a Muslim, had written an essay in 2010 near the first anniversary of the Ford Hood shootings, calling the attack "an act of aggression by a man and not by Islam".
The essay also said Mr Abdo's father was Muslim and that the infantry soldier began following Islam when he was 17 years old.
Mr Abdo was arrested after police in Killeen received a call from staff at America's Best Value Inn, where he was arrested, police told the BBC.
The owner of a gun store had also phoned police about a suspicious man who purchased ammunition.
If convicted, Abdo faces up to 10 years in federal prison and a maximum fine of $250,000 (£152,000), the Department of Justice said.