US debt: House vote on Republican spending cuts delayed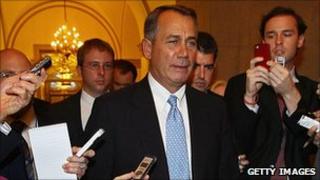 A vote on a Republican bill to raise the US debt ceiling, cut spending and avert default has been delayed in the face of conservative resistance.
House Speaker John Boehner and Republican leaders were struggling on Thursday to convince rank and file lawmakers to vote for his bill.
The plan, however, is almost certain to fail in the Democratic-led Senate, and the White House has warned of a veto.
Congress must raise the US debt limit by a deadline of Tuesday.
The US Treasury has warned the government will run out of money to pay all its bills unless a $14.3tn (£8.7tn) borrowing limit is increased by 2 August.
'Untenable situation'
A vote on Mr Boehner's bill was postponed for a few hours late on Thursday, as Mr Boehner and his lieutenants endeavoured to win support among rank and file conservative Republicans.
But eventually Republican Representative Kevin McCarthy announced that there would be no vote on Thursday evening.
Some Republicans - including Tea Party supporters who won House seats in 2010 and oppose raising the debt limit under any circumstance - feel the bill did not cut enough from the US budget.
Senate Democratic Leader Harry Reid predicted that even if the bill passes in the House, it will fail to pass the Senate, where Democrats and independents voting together hold 53 of 100 votes.
Republicans hold 240 of the 433 votes to be cast in the House, and need 216 of their members - plus Speaker Boehner in the event of a tie - to back the bill to pass it.
Meanwhile, International Monetary Fund chief Christine Lagarde warned that if the debt ceiling was not increased there could be an impact on the US dollar.
"One of the consequences could be a decline of the dollar as a reserve currency and a dent in people's confidence in the dollar," she said.
Mr Boehner's plan would trim $917bn from the US budget deficit over 10 years and raise the debt limit by up to $900bn.
President Barack Obama supports another plan by top Senate Democrat Harry Reid, which would cut $2.2tn from deficits, and raise the debt ceiling by $2.7tn.
But that is thought unlikely in its current form to pass the Republican-controlled House.
The Boehner and Reid plans overlap in key ways - trimming spending over 10 years, shunning President Obama's call for tax increases on the wealthy and creating special lawmaker committees to craft future cuts.
But Mr Boehner's approach would force another debt-limit showdown during next year's presidential campaign, something Mr Obama has fiercely opposed.
Senate Majority Leader Reid's plan would see the ceiling lifted until after the November 2012 elections.
"No Democrat will vote for a short-term Band-Aid that would put our economy at risk and put the nation back in this untenable situation a few short months from now," Mr Reid said on Thursday.
Endgame?
Senior Republicans goaded Democrats, saying they would have to accept responsibility for the economic consequences of default if they did not pass the Republican plan.
"It's inconceivable to me that the president would actually follow through on this [veto] threat," Senate Republican Leader Mitch McConnell said on Thursday. He accused Democrats of "playing with fire".
Analysts say success in the House for the Boehner plan would lend it legitimacy, but it would not be able to pass in the Senate.
The most probable scenario is thought to be a last-minute scramble for a compromise and razor-edge votes in both chambers, with the high-stakes game of legislative brinkmanship expected to continue all weekend.
Senate Finance Committee Chairman Max Baucus predicted an endgame that would see lawmakers modify Mr Reid's bill to make it more appealing to Republicans.
Speaking on Thursday, White House spokesman Jay Carney said a possible compromise would involve "significant deficit reduction, a mechanism by which Congress would take on the tough issues of tax reform and entitlement reform, and a lifting of the debt ceiling beyond - into 2013, so that we do not have the cloud of uncertainty that is hanging over our economy right now".
Washington hit its debt ceiling in May, but has used accounting adjustments, as well as higher-than-expected tax receipts, to continue operating.
In recent decades, the US Congress has increased the government's borrowing authority dozens of times as a matter of routine, but this year newly elected conservative Republicans have demanded steep cuts to the budget deficit as the price of an increase.