US debt: White House 'Rickrolls' Twitter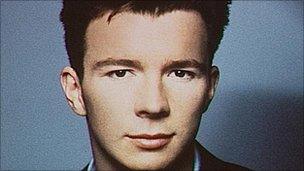 The White House has lightened the tone of the debt ceiling debate by joining an online craze known as "Rickrolling".
Responding to criticism during a Twitter chat, the White House offered users a link to "something more fun".
The link pointed to a YouTube video of UK pop singer Rick Astley's 1987 number one hit Never Gonna Give You Up.
Years of "Rickrolling", or duping web users into clicking a link to that song, has seen almost 36.5 million people watch Astley's YouTube video.
The White House was conducting an online chat it labelled "Office Hours" in an effort to connect to web users about the often dry issue of the debt and budget negotiations.
Brian Deese, deputy director of the National Economic Council, was taking questions from Twitter users via the official White House Twitter feed - followed by 2.3 million users.
After earnest discussion of the state of the economy, of the fate of the US budget and of the continuing negotiations to raise the debt ceiling, one contributor voiced concern over the tone of the tweets.
"This WHO correspondence briefing isn't nearly as entertaining as yesterday's. #SCOT #WHchat" wrote one user, David Wiggs, using popular hashtags at the end of his message to make sure his tweet was read by the White House.
His observation prompted the White House's exhortation to do "something more fun".
Rick Astley rose to prominence in the UK in 1987 when Never Gonna Give You Up spent weeks at the top of the UK singles charts.
He enjoyed a period of success before fading from public view, only to re-emerge in 2008 as the craze for "Rickrolling" spread through the internet.
He has been reported to be happy and bemused by the adoption of his song by the web, but now refuses to give interviews or comment on the subject.
Related Internet Links
The BBC is not responsible for the content of external sites.