Boehner debt plan falters as Obama considers veto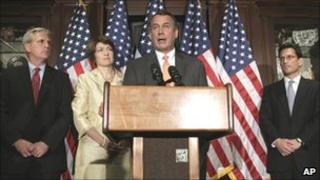 The White House has warned that President Obama could veto a debt limit plan proposed by top House Republicans.
Meanwhile, Speaker John Boehner's plan to trim public spending and raise the limit met with resistance from rank-and-file members of his own party.
A House of Representatives vote on the plan was delayed from Wednesday after doubts arose over the cuts it proposed.
Washington remains at odds as a deadline to increase the government's borrowing authority looms on 2 August.
The US runs a budget deficit that topped $1.5tn (£920bn) this year, and has amassed a national debt of $14.3tn.
Boehner plan rewrite
The government's authority to borrow more money has expired, and the US risks a default on its debt if Congress and the White House cannot agree a plan by next Tuesday.
The debt limit has been raised dozens of times in recent decades.
This year, though, conservative Republicans have refused to allow an increase that is not matched by dramatic cuts to the US budget deficit.
The latest round of bargaining began on Monday when Mr Boehner and Senate Democrats offered competing plans to raise the debt limit and cut spending.
The plans differed in size and scope, and neither would raise new tax revenue - a red line for Republicans.
Mr Boehner's plan would also require another debt limit agreement in about six months, something Mr Obama has publicly declared he will not accept.
On Tuesday, the White House budget office said in a statement that the Obama administration "strongly opposes" Mr Boehner's plan.
It said that if the proposal was presented to Mr Obama "the president's senior advisors would recommend that he veto this bill".
Mr Boehner was forced to rewrite his plan after the Congressional Budget Office, the official non-partisan score-keeper in fiscal legislation, said it would cut the deficit by only $850bn, not the $1.2tn in savings he had initially announced.
The legislation was originally scheduled for debate in the House on Wednesday, but is now not expected to make it to the floor before Thursday.
The Boehner plan has been also slow to win support from rank-and-file Republicans in the House of Representatives, who have been pushing for steeper cuts.
The Club for Growth, which funds primary campaigns against Republicans it deems not conservative enough, also denounced Mr Boehner's bill as too weak, as did other right-wing groups such as the Heritage Foundation.
Telephones jammed
Democratic Senate majority leader Harry Reid is challenging Republicans to back his own plan - a no-taxes, government-cuts proposal to trim $2.7tn over a decade.
It would protect social programmes for the poor and elderly and a public pension programme - all popular among Democrats, while not raising new tax revenue.
The 10-year plan includes $1.2tn in cuts to defence and other discretionary spending and $1tn in savings from winding down the wars in Iraq and Afghanistan.
The Capitol's telephones were jammed on Tuesday after Mr Obama urged the public the evening before to contact their representatives about the debt impasse.
In prime-time back-to-back TV addresses on Monday evening, Mr Obama and Mr Boehner accused each other of intransigence on the debt issue.
If the debt ceiling is not raised, the US Treasury could run out of money to pay all of its bills - which could lead to interest rate rises, threaten the US economy and in turn the global recovery.