Philadelphia art dealer 'smuggled tonne of ivory'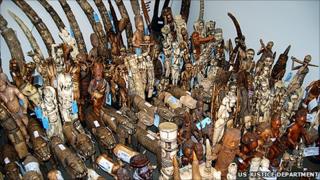 An art dealer has been arrested and accused of smuggling a tonne of African ivory into the US for sale at his Philadelphia store.
Victor Gordon, 68, paid a conspirator to fly to Africa, purchase raw ivory and have it carved to his specifications, prosecutors said.
The conspirator dyed the carvings in order to make them appear old before smuggling them into the US, they said.
Traffic in ivory is tightly restricted under US and international law.
"It's safe to say dozens of elephants sit before you," Edward Grace, deputy chief of law enforcement for the US Fish and Wildlife Service, told reporters in Philadelphia.
There, officials displayed for reporters intricately carved whole tusks and smaller sculptures and figurines that agents had seized from Mr Gordon's shop and from his customers.
Elephants are protected under the 1975 Convention on International Trade in Endangered Species (CITES). Ivory more than 100 years old can be sold can be legally imported into the US.
"The amount of the elephant ivory allegedly plundered in this case is staggering and highlights the seriousness of the charged crimes," United States Attorney for the Eastern District of New York Loretta Lynch said.
"We all have a responsibility to protect endangered species, both for their sake and for the sake of our own future generations."
Ms Lynch's office described the seizure of the ivory in the case as one of the largest in US history.
According to an indictment filed in federal court in New York, Mr Gordon paid an unidentified co-conspirator $32,000 (£19,500) to undertake several trips to purchase "raw" ivory in central and west Africa between May 2006 and April 2009.
The co-conspirator had the ivory carved and stained to disguise its newness, then smuggled it into the US through JFK International Airport in New York.
It was then delivered to Mr Gordon's retail store in Philadelphia, according to the indictment.
In April 2009, federal fish and wildlife officers seized hundreds of ivory tusks and carvings from Mr Gordon's shop in Philadelphia.
As the investigation progressed over the next year-and-a-half, agents seized more pieces from his customers in the states of New York, Kansas, California and Missouri.
Mr Gordon was arrested on Tuesday and charged with 10 counts of violating US anti-ivory smuggling laws, including statutes aimed at protecting endangered species and enforcing the CITES.
If convicted, he faces up to 20 years in prison.