Low viciousness and high drama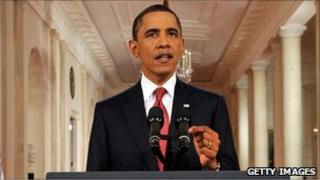 For innocent Americans snuggling down to watch Two and a Half Men, it might have been a bit of a shock to find their viewing interrupted by one and a half speeches.
All the networks carried 15 minutes from US President Barack Obama and something much shorter by US Speaker John Boehner.
Sometimes presidents must aim for a voice of calm, reassurance in a terrible world. This was not President Obama's purpose on this occasion.
He wanted to make the sofa dwellers' flesh creep. Some of them might have just been watching America's Got Talent. He warned them it would not if some Republicans got their way. He said if the USA defaulted on its debt next week, the cost of their car loans, mortgages and credit card bills would shoot up.
Ever since the Republicans took control of the House last year, it has been clear that it would end in a blame game. The president is singling out, not John Boehner, but some within the Republican party who will not compromise.
Curiously Mr Obama devoted the beginning of his speech to arguing that a plan that contained deep cuts without tax rises was unfair.
It is odd because the Democrats' own plan has jettisoned tax cuts, in an effort to appeal to some Republicans. It suggests either the president does not really think much of the plan or he is keen on stirring a bit of ideological warfare of his own.
He used the bully pulpit to some effect, and apparently Capitol Hill's website crashed when he urged people to contact their representative to call for compromise. But his position is not strong.
The Republicans have won a lot of the arguments. There is a shared agreement this is a problem that has to be dealt with.
Deep cuts are on everyone's agendas now. And tax cuts are off them. Really what remains is their determination not to give the president a blank cheque.
The method is to raise the debt limit for just six months. This sounds reasonable. It sounds less virtuous if you see it as an attempt to make sure this argument runs into election year, and indeed the campaign is prosecuted with a rerun of this row in the background.
Obama says if that happens, the economy will be in further danger and the American people will be collateral damage in partisan warfare.
Despite all the usual guff about the USA being "a grand experiment in compromise", this is now a rather nasty game of chicken, and no-one wants to look yellow to their own political base.
Those who missed some of their favourite shows might reflect it is better than any reality TV for low viciousness and high drama.