Alaska bear attack leaves teens in serious condition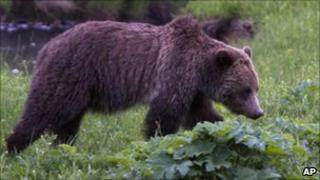 Two US teenagers are in a serious condition after a grizzly bear attacked a group of seven students learning survival skills in the state of Alaska.
Four of the teenagers were injured after coming upon a bear walking with her cub, state troopers said.
Emergency responders found the students early on Sunday using a locating beacon and transported them by helicopter.
The students were participating in a 30-day wilderness course in the Talkeetna Mountains near Anchorage.
The teenagers had been walking without instructors in a single-file line through the mountains late on Saturday when they were mauled by the grizzly bear, with the first two students in the line suffering the brunt of the attack.
National Outdoor Leadership School spokesman Bruce Palmer said 17-year-olds Joshua Berg and Samuel Gottsegen sustained the worst injuries, caused mostly from bear bites.
"I thought I was going to die when I was being attacked. I was so scared," Mr Gottsegen told the Associated Press news agency from his hospital bed.
Hospital spokesperson Crystal Bailey at the Providence Alaska Medical Center in Anchorage said both Mr Gottsegen, of Denver, Colorado, and Mr Berg, of New York City, were in a serious condition. Officials earlier said their injuries were life-threatening.