'Five dead' at Texas skating rink party shooting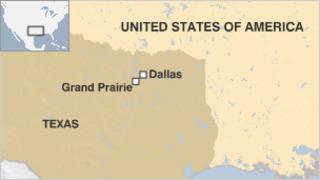 At least five people have been killed and three injured in a shooting at a roller-skating rink birthday party in the US state of Texas, police say.
The shooting happened after an argument broke out at the party in the city of Grand Prairie, close to Dallas.
The gunman is among the dead, having shot himself after opening fire on fellow guests, police say.
Details about the incident are sketchy but police say the row was a "domestic disturbance between husband and wife".
"It appears to be a domestic situation, at this point," Reuters news agency quoted police spokesman Steve Dye as saying. "That is our initial finding. And it appears the suspect did die from a self-inflicted gun wound."
Police said they first received a call about the shootings at Forum Roller World shortly after 1900 local time on Saturday (0200 GMT on Sunday) and responded immediately.
Witnesses described seeing people fleeing the rink in panic after the gunman opened fire.
The injured party guests were taken to hospital and there was no immediate information about their condition.