Senate rejects Republican 'cut, cap and balance' bill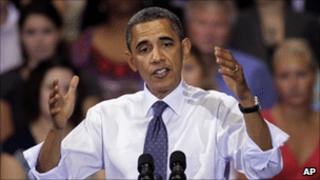 The Democratic-led US Senate has rejected a "cut, cap and balance" bill passed by the Republican-led House.
The bill would have severely cut public spending and forced the government to balance its budget.
The move highlights divisions within Congress as a deadline nears to raise the US debt limit, analysts say.
On Friday, House of Representatives Speaker John Boehner said a deal to avoid a possible default on 2 August was "not close".
'No agreement'
Republicans and Democrats appeared on Friday to harden their respective positions over the debt issue.
Mr Boehner was quick to quash reports that he was close to hammering out a deal with President Barack Obama.
"There was no agreement, publicly [or] privately, never an agreement and frankly not close to an agreement," Mr Boehner, a Republican, told reporters following a private meeting with House Republicans.
Meanwhile, Senate Democrats complained they had been left out of negotiations, with some warning the president against an agreement that would disproportionately burden the poor by exacting big cuts to social programmes.
In a town hall-style meeting with voters in Maryland on Friday, President Obama warned that every American would feel the economic pain if Congress failed to reach an agreement to raise the US debt limit.
"If we don't solve it, every American will suffer," he said. "Businesses will be less likely to invest and hire in America. Interest rates will rise for people who need money to buy a home or a car, or go to college."
The US national debt is currently about $14.3tn (£8.8tr), fed by an annual government budget deficit that reached $1.5tr this year.
The US government's authority to borrow money is limited by statute.
Historically, Congress has raised that debt limit as a matter of routine, but this year, the Republican party - buoyed by a group of newly elected hardline fiscal conservatives in the House of Representatives - has demanded steep cuts to the US budget as the price of an increase.
The Obama administration has warned the US risks defaulting on its debt if Congress does not raise the limit by 2 August.
In recent weeks, Republican and Democratic congressional leaders have worked with the White House to devise an agreement that would raise the limit while trimming the budget deficit, but the talks have collapsed several times.
Republicans have fiercely resisted Democratic proposals to raise additional tax revenue by closing tax loopholes that Democrats say primarily benefit the wealthy, while Democrats have vowed to protect social programmes for the elderly and poor from Republican-proposed cut backs.
In recent weeks, the White House and a bipartisan "gang of six" senators have floated proposals to trim trillions of dollars over the next decade.
The plans would cut the deficit through a mix of spending cuts and tax increases, but hardline conservative Republicans in the House of Representatives have urged Republican leaders to reject those.
Meanwhile, Senate Democratic and Republican leaders are crafting a fall-back plan that would enable Mr Obama to raise the debt ceiling unilaterally.
The Republican-led House of Representatives approved the "cut, cap and balance" plan on Tuesday of this week.
It would have reduced government spending by cut spending by $5.8tr over 10 years, capped future government spending at a certain percentage of the US economy, and amended the US constitution to require a balanced budget.
Mr Obama vowed to veto the bill, and the Democratic-led Senate on Friday rejected it, saying it would bring about steep cuts in social programmes.