Canada to deport Chinese fugitive Lai Changxing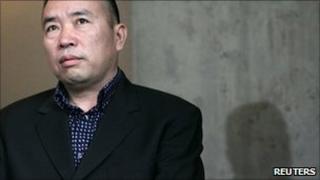 A Canadian court has cleared the way for one of China's most-wanted fugitives to be deported back to his home country after a long legal battle.
Lawyers for Lai Changxing, who is accused in China over a multi-billion dollar smuggling operation, say he fears execution if he is sent back.
Mr Lai fled to Canada with his family in 1999, but he was denied asylum and has fought to stay ever since.
China says he will have a fair trial and will not receive the death penalty.
Canada, which does not practice capital punishment, forbids the extradition of prisoners to countries where they may be executed.
Correspondents say the case has soured diplomatic relations between the two countries.
'Clear stance'
"The life of the applicant is in the Chinese Government's hands," the court ruled, citing a Chinese proverb.
Mr Lai's lawyers have not yet said if they plan to appeal against the decision.
Canadian officials say Mr Lai could be deported as early as Saturday.
China accuses Mr Lai of running a huge smuggling operation in Fujian province in the 1990s. They say he dealt in goods including cigarettes, cars, heating and cooking oil, textiles, chemicals and other goods.
China's foreign ministry released a statement welcoming the court's decision.
"Lai Changxing has been wanted by the Chinese judiciary as a prime suspect in a Xiamen smuggling case and fled after the incident to Canada for many years," said Foreign Ministry Ma Zhaoxu in a statement.
"The Chinese government's stance on Lai Changxing returning to China to stand trial is clear. We welcome the Canadian court's decision."
Lawyers for Mr Lai say at least seven of his associates have died or disappeared in China's justice system.
They argue that Mr Lai would face torture and execution in China as a scapegoat for high-level officials who were involved in corrupt practices - an allegation China denies.