Arizona seeks donations to build Mexico border fence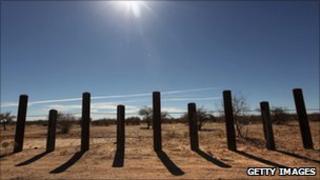 The US state of Arizona is soliciting private donations to build a fence along its border with Mexico.
The effort's Republican backer warns the fence is needed to keep out "drug cartels, violent gangs... illegal aliens, and even terrorists". He hopes to raise $50m (£31m) for the effort.
The effort comes amid complaints the US has failed to secure the border.
Only 44% of the 2,000-mile (3,218km) US-Mexico border is under "operational control", the US has said.
"One of the gravest threats facing America today is the lack of security and enforcement along the US and Mexican border," state Senator Steve Smith wrote on a website set up to support the fence-building effort.
'Secure border'
The initiative has been launched under the auspices of a law that came into effect on Wednesday.
Mr Smith told the Arizona Republic newspaper he hoped the state would eventually use the funds to build the fence on private land and, with Washington's permission, on federally-owned land.
"This, you can taste and smell what you're getting - you're paying for a secure border," he said.
Arizona's southern border with Mexico is about 370 miles (595km) long.
The state is known for its tough stance against illegal immigration.
This year, the Republican-controlled state legislature passed a bill that would have expanded police powers to question people suspected of being illegal immigrants.
However, a judge put the most controversial parts on hold following a court challenge.