US to hold inaugural Spanish spelling bee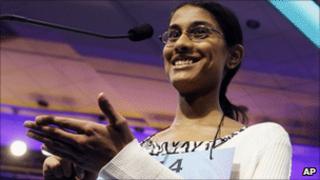 It may be easy to spell Spanish words such as "litro" (litre) or "amor" (love).
But "otorrinolaringologo" (ear, nose and throat doctor) and "sanctasanctorum" (reserved and sacred place) are a different challenge.
All these are included in the list of words that will be used to test the spelling abilities of Spanish-speaking students in the US, in the first ever National Spanish Spelling Bee, to be held on Saturday in Albuquerque in the border state of New Mexico.
There, champion spellers from Oregon, Colorado, Texas and Minnesota are expected to demonstrate their command of Spanish orthography.
"We have had a state spelling bee in New Mexico for the past 15 years," said organiser David Briceno, president of the New Mexico Association for Bilingual Education (NMABE). "We thought, 'why don't we send our winners to a national competition?' And we realised there wasn't anything like the English national contest."
The contest's organisers hope it will become a Spanish version of the popular National Spelling Bee, held - in English - every year since 1925 except during World War II.
The 2011 contest was broadcast live on TV and included 275 spellers from all 50 US states and guest participants from China, Ghana, South Korea and other countries.
"It is a very American phenomenon," Mr Briceno said.
"It has to do with the competitive spirit. The tension grows in the final rounds when you get two or three finalists trying to get it right."
The more modest Spanish version in Albuquerque will have about 50 spellers, aged eight to 15.
The competition's backers say having a Hispanic version of one of nation's most popular competitions is an acknowledgement of America's multicultural and multilingual character.
"Instead of dumbing down our kids," Daniel Ward, editor of event sponsor Language Magazine, said in a statement, "we're recognising that - like most of the world's other children - they'll need more than one language to succeed in our global village."
The US Hispanic population has soared in the past decade, comprising more than half of the country's population growth between 2000 and 2010, according to 2010 census figures.
There are now 50 million Hispanics in the US - defined as people of Hispanic or Latino origin, regardless of race. Hispanics make up 16.3% of the US population, up from 12.5% in 2000, and the population is expected almost to double by 2050.
Spanish and English are spoken equally in about one-third of Hispanic households, according to the Pew Hispanic Center, and about 17% of Hispanic families speak more Spanish than English.
"For Spanish-speaking kids, learning English is a basic need to become integrated," said Mayra Sanchez, a teacher at an elementary school in a predominantly Hispanic neighbourhood in south-east Los Angeles.
"Initiatives like this Spanish bee help them realise that their mother tongue is as important as the new language they are now learning and it helps second- and third-generation Hispanics remain fluent in their first language as well."
The rules of the National Spanish Spelling Bee are similar to those of the English competition. Words are randomly chosen from a list provided to contestants beforehand to read and rehearse.
After beginning to spell a word, the contestant can stop and start over, but in retracing the contestant cannot change the letters or the sequence. One mistake and they are disqualified.
The Spanish contest might be seen as less of challenge, as Spanish orthography in general is simpler than English. In Spanish, every letter has a unique associated phoneme, so with very few exceptions, words are written exactly as they sound.
"Beyond showing command of the spelling, the contest gives kids an insight into the origin of the words and their definition and an experience of language as a whole that is different from the one that they can get in a classroom," Mr Briceno said.
The competition is open to both mother-tongue speakers and children learning Spanish as a second language. But do the latter stand a chance?
"It depends on how hard they study," Mr Briceno said, "on their ability to understand the sounds and their relationship to the spelling… and on how nervous they get while they go on stage."