Texas Rangers baseball fan dies in plunge from seat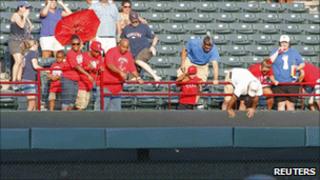 A Texas baseball fan has died after falling 20ft (6.1m) from a stadium deck while trying to catch a ball.
Shannon Stone, a 39-year-old firefighter, died about an hour after Thursday's fall at Rangers Stadium in Arlington, Texas. His son saw him fall.
TV footage showed Mr Stone leaning forward from his seat over a rail to grab a ball tossed at him by Josh Hamilton, a star Rangers player.
The fatal fall was the second at a Major League Baseball park this year.
The fall occurred in the early part of Thursday night's game between the Texas Rangers and the visiting Oakland Athletics.
Oakland player Conor Jackson hit a foul ball into left field, where Hamilton retrieved it and tossed it up into the stands.
Footage showed Mr Stone catching the ball before tumbling forward over a railing into a space between the stands and a scoreboard, out of sight from the field.
A young boy in red Texas Rangers kit can be seen in the seat next to him.
Oakland pitcher Brad Ziegler, who was nearby when Mr Stone fell, said he appeared initially to be conscious and alert.
"They had him on a stretcher," Ziegler told the Houston Chronicle newspaper.
"He said, 'Please check on my son. My son was up there by himself.' The people who carried him out reassured him, 'Sir, we'll get your son, we'll make sure he's OK.' He had his arms swinging. He talked and was conscious. We assumed he was okay. But when you find out he's not, it's just tough."
In May, a 27-year-old fan died after a fall at the Colorado Rockies ballpark.
On Friday, Rangers president Nolan Ryan, a legendary former pitcher now a member of baseball's Hall of Fame, said Mr Stone's widow had asked that TV news programmes cease broadcasting footage of her husband's fall.
He said Mr Stone's fall was the fourth in the stadium's 17-year history, but he said the rails exceeded requirements laid down by local building regulations.