Fort Hood: Nidal Hasan to face court martial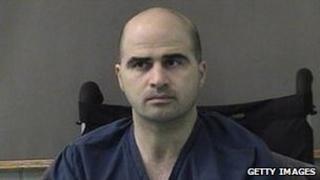 The US Army psychiatrist accused in a deadly shooting rampage at a Texas base will face a court martial and possible death penalty, a general has ruled.
Maj Nidal Malik Hasan is accused of killing 13 people and wounding 32 more in November 2009 at Fort Hood.
The decision by Fort Hood commander Lt Gen Donald Campbell follows rulings by military legal officials.
Maj Hasan will next enter a plea and a military judge will then schedule court martial proceedings, the US Army said.
Maj Hasan, who was born and raised in the US state of Virginia to Palestinian-born parents, is charged with 13 counts of premeditated murder and 32 of attempted premeditated murder.
He was shot by police during the rampage and is paralysed from the waist down.
Maj Hasan was said to have been affected by injuries he saw at the Walter Reed Medical Army Center, where he worked as a psychiatrist treating troops returning from combat.
He has been described as a devout Muslim and a poor-performing military officer who alarmed his superiors with his eccentric behaviour.