Canadian forces leave Afghanistan as mission ends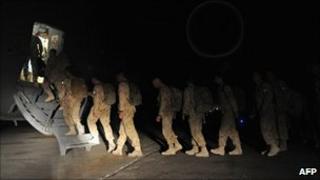 Canadian troops have begun to return home from Afghanistan, as the country's nine-year combat mission comes to a close.
At a flag-lowering ceremony on Tuesday, troops officially handed over control of their last district to US forces.
Canada's 2,800 troops are mandated by parliament to return home in 2011.
Other countries have also announced troop withdrawals, but the Canadians are the first major contributor to begin a pull-out this year.
Training mission
Canadian troops were first deployed in Afghanistan in 2002, only months after the US-led invasion, but forces took on a bigger role in 2006.
The official end of Canada's mission comes on Thursday.
At the ceremony at the Forward Operating Base Ma Sum Ghar in Kandahar province, Brig Gen Ahmad Habibi, Afghan commander in the area, paid tribute to the soldiers.
"You have all earned a great name in the heart of people in Afghanistan and please take that with pride to your homes," he said.
A separate Canadian training mission, involving some 950 troops, will be based in Afghanistan to train local security forces.
The US plans to withdraw 33,000 of its soldiers by the end of 2012, while several other countries, including France, Belgium and the UK, also have plans for a pull-out.
As of last month, the Nato mission in Afghanistan included about 132,000 troops from 48 countries, according to Nato. The biggest contributors were the US, UK, Germany, France and Italy.