North Dakota: Feeding the hungry in a land of plenty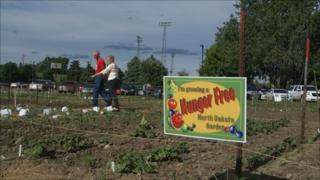 North Dakotans like to think they feed the world. But right now they are being encouraged to feed themselves.
Aided by its recent oil boom, North Dakota has weathered the recession better than many other states. But government officials say one in 11 of the population does not have enough to eat. Many of these people are children.
In response, the state is promoting the Hunger Free North Dakota Garden Project, urging farmers and gardeners to grow and donate fruit and vegetables to food pantries and community programmes.
"Over 95% of our land is given over to fields, ranches, crops and animal production," says Karen Ehrens, a dietician and consultant to North Dakota's Department of Agriculture, which is helping to co-ordinate the project.
"And even here in our own state there were people not getting enough to eat, which was a great irony."
The scheme is in its second year. In 2011 it brought in 350,000lb (160,000kg) of fresh produce. This year, the target is 500,000lb.
Reap what they sow
The race to produce is infectious.
"It's becoming kind of a challenge between two of us sets of husbands and wives," says retired office supplies store owner Bob Schauer, as he and his wife Donna water seedlings on municipal ground in downtown Bismarck, the state capital.
The Schauers donated 350lb of produce last year but are now tending three plots, each measuring 20ft by 20ft (6m by 6m), and so hope to triple their record.
A hard winter and a long, wet spring have caused delays, but the they rattle off an impressive list of some 25 different fruits and vegetables they have in the ground, including cucumbers, tomatoes, potatoes and corn.
The city provides the plots and the water. Participants do the rest.
"It's up to you to furnish the seed, to maintain the garden, to water it, to weed it, to care for it," says Donna. "Then to reap the harvest and distribute it among the many charities that are on the list."
At a nearby plot, children are busy checking for weeds and bugs. Many of the plots are sporting brightly-coloured signs announcing "I'm growing a hunger free North Dakota garden."
At the Ruth Meiers Hospitality House, a food pantry and homeless shelter on Broadway Avenue, executive director Susan Martin says the arrival of fresh produce at harvest time is a welcome addition to the canned and packaged goods that make up the bulk of donations.
For the residents, it can seem almost miraculous.
"Last summer we had a lady bring in fresh strawberries," she says. "And they were just delighted because they hadn't had fresh strawberries for years."
But if growing food is deep within North Dakota's DNA, Agriculture Commissioner Doug Goehring, himself a farmer, says Dakotans are slowly forgetting their roots.
"It's amazing how disconnected we are from production agriculture," Mr Goehring says.
The Hunger Free Garden project, he says, is designed so that people can "reconnect with the land".
It certainly seems to be working for Bob Schauer, who was raised on a farm before moving to the city.
"That's where I came from," he says. "You can never take the boy away from the farm."