Casey Anthony: Toddler death jury considers verdict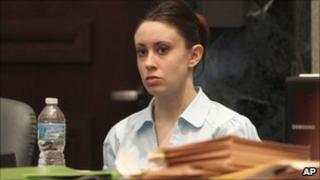 The jury in the murder trial of a US single mother, Casey Anthony, has been sent out to consider its verdict.
Seven women and five men will consider whether Ms Anthony is guilty of first-degree murder in the death of her two-year-old daughter, Caylee.
If found guilty, the 25-year-old could receive the death penalty or a life sentence. She denies all seven charges.
The case has gripped the US since the toddler from Orlando, Florida, disappeared in June 2008.
Caylee's skeletal remains were discovered in a wooded area about one-quarter of a mile from the family home, six months after she was last seen.
After the court sat through the weekend and into the US national holiday of 4th July, lawyers finished their closing arguments on Monday morning.
Prosecutors say Ms Anthony suffocated Caylee with duct tape because the girl got in the way of her love life and partying.
They said she lied to her parents about her daughter's whereabouts after the toddler disappeared in June 2008, saying she was with a nanny.
Prosecutor Linda Burdick said to the jury: "At the end of this case all you have to ask yourself is whose life was better without Caylee?"
Showing the jury two photographs, one of Ms Anthony apparently attending a party and the other of a tattoo "Bella Vita" she had inscribed on her shoulder, Ms Burdick said: "This is your answer."
Fake father
But Ms Anthony's defence team say the girl accidentally drowned in the family pool.
They say she and her father George panicked and dumped the body to make the death look like a murder. Mr Anthony, a retired police officer, has denied this happened.
Defence lawyer Jose Baez said the elaborate lies his client had told her parents and the police was due to her dysfunctional upbringing and did not make her a killer, he told the jurors.
Casey Anthony declined to testify at the trial.
Other charges include aggravated child abuse, aggravated manslaughter of a child and giving false information to police.