US tourist dies as Mexico boat sinks in Sea of Cortez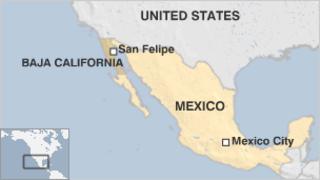 One tourist drowned and at least six others are still missing after a fishing boat capsized during a fierce storm off the Mexican coast.
The 155ft (47m) boat, carrying 27 US tourists and 17 crew, went down in heavy conditions in the Gulf of California, the Mexican navy said.
The US Coast Guard will help search for those still missing, said to include one Mexican crew member.
The boat, the Erik, had operated out of San Felipe since 1989, reports say.
The town, located on Mexico's Baja California peninsula and with access to the Sea of Cortez, is a popular centre for windsurfers and sport fishermen.
Mexican officials said the weather was clear when the Erik set out on Saturday, but deteriorated quickly and unexpectedly on Sunday.
Capt Benjamin Pineda Gomez of the Mexican navy said the Erik capsized at in the early hours of Sunday morning some 60 miles (100km) south of San Felipe.
Two giant waves hit the boat, causing it to tip over less than two miles (3km) from shore.
No-one knew about the accident until the middle of Sunday afternoon, when another fishing boat rescued three people, he added.
The US said its helicopter would begin helping the search for those still missing from early on Monday morning.