Minnesota budget row shuts public services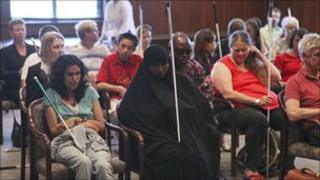 The US state of Minnesota has shut down all non-essential public services because of a row over the state budget.
The Democratic governor, Mark Dayton, wants spending cuts and tax increases, but the Republican-led legislature rejects higher taxes.
On one of the busiest holidays of the year - 4 July weekend - parks and campsites will be closed.
The impasse has parallels with the budget dispute between President Barack Obama and the US Congress.
Immediate impact
State agencies began winding down at midday local time on Friday. Roughly 23,000 state workers out of 36,000 are expected to be off work.
Services deemed critical will be unaffected. They include prison staffing, state police patrols and carers at nursing and veterans homes.
Payments to schools will also continue during the shutdown, as well as food stamps, Medicaid and temporary assistance to needy families.
This is 4 July weekend, the holiday celebrating American independence, when people like to enjoy the great outdoors.
So the closure of leisure facilities is likely to have the most immediate impact. Parks, campsites, the state zoo and the landmark Capitol building in state capital St Paul will all be shut.
Republican leaders asked Governor Dayton to call a special session to approve a 10-day funding extension, saying they believed they were close to a budget deal.
But the governor dismissed the offer as "a publicity stunt".
Minnesota Republican Chairman, Tony Sutton, called Gov Dayton a "piece of work", and accused him of inflicting "maximum pain" for political reasons.
One of the senior local Democrats, Ken Martin, laid the blame on Republicans, saying they drove the state to a shutdown to protect millionaires from the tax increases proposed by Gov Dayton.
"Shame on you for putting the interests of your rich campaign donors ahead of the well-being of the constituents you are supposed to represent," said Mr Martin.