Dominique Strauss-Kahn: 'Doubts' on maid's credibility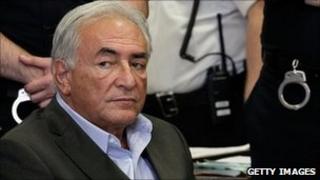 The sex assault case against former IMF head Dominique Strauss-Kahn appears to be in trouble amid reported concerns over the alleged victim's credibility.
Law enforcement officials have told US media the accuser has repeatedly lied since the alleged attack on 14 May.
The Guinean-born maid also appeared to have lied about her asylum application, officials reportedly said.
Mr Strauss-Kahn is due in court on Friday. His lawyers are expected to ask for his bail conditions to be relaxed.
The 62-year-old French politician has been under house arrest in a New York apartment since posting a $6m (£3.7m) cash bail and bond in May. He has armed guards, electronic surveillance and wears an electronic ankle monitor.
'Extraordinary boost'
He is charged with seven counts including four felony charges - two of criminal sexual acts, one of attempted rape and one of sexual abuse - plus three misdemeanour offences, including unlawful imprisonment.
Mr Strauss-Kahn, who resigned as head of the International Monetary Fund to defend himself, vigorously denies the charges.
In earlier court hearings, prosecutors had spoken of the strength of their case. One attorney said the proof against him was "substantial".
But US media now report that prosecutors plan to outline their concerns about the 32-year-old maid's credibility to the judge in Friday's unscheduled court hearing.
Although forensic tests found unambiguous evidence of a sexual encounter between Mr Strauss-Kahn and the woman, prosecutors now do not believe much of what the accuser has told them about the circumstances or about herself, the The New York Times reports.
Law enforcement officials believe there are inconsistencies over claims the woman made in her application for asylum, particularly over an allegation that she had been raped in her native West African state of Guinea, US media reports.
The maid told the authorities that Mr Strauss-Kahn accosted her after she entered his room in New York's Sofitel hotel to clean it.
The defence team had been expected to argue that a sexual encounter occurred, but that it was consensual.
In recent weeks, they had claimed to have information that "gravely undermined" the credibility of the woman, but the New York Times says it was the prosecutors' own investigators who uncovered the current reported inconsistencies.
Until his arrest, Mr Strauss-Kahn was seen as a leading candidate to be the next centre-left French presidential candidate and challenger to conservative President Nicolas Sarkozy.
There are still two weeks left for socialist candidates to put their name forward for next year's presidential election, and one ally, Michele Sabban, has called for the process to be suspended to give Mr Strauss-Kahn the opportunity to be part of it.
Others in the party are being more cautious about his chances of standing, although many agree that if his name is cleared he could still be an asset in the campaign.
"His presence alongside us would be decisive for our success in the presidential election," said former minister Jack Lang, on BFMTV.
The BBC's Christian Fraser says it seems unthinkable that Mr Strauss-Kahn could still enter the race to be president.
In the days after his arrest, his reputation was further tarnished by a litany of stories about his reputation as a womaniser.
The issues sparked some soul searching in France about attitudes in general towards sexual harassment and abuse, and the treatment of women in the workplace, our correspondent says.
On Wednesday, France's former Finance Minister Christine Lagarde was officially named as Mr Strauss-Kahn's replacement at the IMF.