Body unseen in Massachusetts swimming pool for days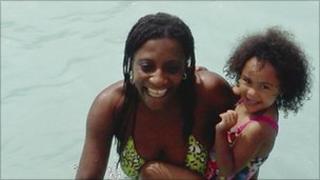 Authorities in the US state of Massachusetts are trying to find out how a body lay unnoticed in a swimming pool for more than two days as the public continued to use the facility.
Marie Joseph, 36, had used a slide at the Veterans Memorial Pool in Fall River on Sunday but failed to return to the surface.
The body was found on Tuesday when teenagers broke in for a night swim.
The permit for the pool, described as "cloudy", had expired six months ago.
The woman's body went unnoticed when a city health inspector examined the pool earlier on Tuesday, Fall River mayor William Flanagan told the BBC.
It was found resting on the bottom of the swimming pool.
"The inspector approved the pool, but noted in his report that the water was cloudy", said Mr Flanagan, adding that the public pool had remained open to swimmers from Sunday through Tuesday.
The swimming pool had not previously been inspected in about a year, and its permit had expired on 31 December 2010.
Mr Flanagan has ordered the immediate inspection of 21 public and semipublic pools in the town, while Massachusetts has closed dozens of state-run swimming pools as the investigation into Ms Joseph's death continues.
Two inspectors, who had stopped by the pool on Monday, have been placed on administrative leave.
An autopsy on Ms Joseph's body has been completed but the results have not yet been published.
Ms Joseph, a native of Haiti, had five children and worked as a housekeeper at a hotel in the state of Rhode Island.
'Systematic breakdown'
Health officials sought to allay public concern, saying the chlorine in the water would have offered protection from any contamination.
State public health medical director Dr Lauren Smith said: "I want to reassure the public that, as disturbing as it is to you, there are no health risks associated with this."
State energy and environmental affairs secretary Richard Sullivan told the Associated Press: "The facts appear to indicate that a woman was in the water for a number of days and not noticed by staff, patrons or other inspections that may have taken place."
He said there had been "a breakdown systematically somewhere".
But he said he believed that normal procedures of checking pools after closure had been taken.
"We undergo a procedure with each and every one of our pools. We believe all of those were in place here."
Ms Joseph had reportedly entered the slide with a nine-year-old boy who noticed she had not resurfaced. The pool is at most 4m (12ft) deep.
One of Ms Joseph's friends said the boy had told a lifeguard Ms Joseph was missing but that no checks were done and her friends thought she had simply left the pool.
The body was found 58 hours later by a group of teenagers who jumped a locked fence at about 2200 on Tuesday.
One regular swimmer, Louie Cahill, told ABC: "The pool is 12ft deep. You cannot see anybody in the bottom of that pool."
A spokesman for the Bristol County district attorney, Gregg Miliote, told CNN that a decomposing body could take a couple of days before becoming buoyant.