Obama honours retiring defence secretary Robert Gates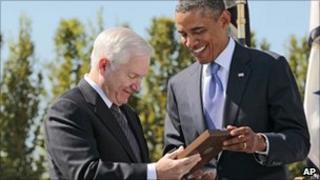 US President Barack Obama has honoured retiring Defence Secretary Robert Gates by presenting him with the Presidential Medal of Freedom, the highest award a president can give a civilian.
At a farewell ceremony, the president said Mr Gates, who steps down on Thursday, had one of the best tenures of any civilian Pentagon chief.
Mr Gates, 67, became defence secretary in 2006 under President George W Bush.
He will be replaced by outgoing CIA chief Leon Panetta on Friday.
President Obama said Mr Gates was a "humble American patriot, a man of common sense and decency, quite simply one of our nation's finest public servants".
Mr Gates served eight presidents in various roles, including leading the CIA, and spent four years as defence secretary during the wars in Iraq and Afghanistan.
Jets, which took off from nearby Reagan National Airport, flew overhead as Mr Obama surprised the veteran public servant with the Presidential Medal of Freedom.
"I am deeply honoured and moved," Mr Gates said after receiving the award.
The president told Mr Gates that not only was he "one of the longest serving American secretaries of defence in American history, it is also clear you have been one of the best".