New York synagogue bomb plotters jailed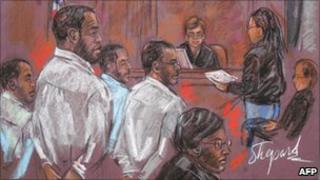 Three men convicted of plotting to set off bombs at a New York City synagogue and shoot down military planes have been sentenced to 25 years in prison.
James Cromitie, David Williams and Onta Williams were arrested in 2009 after planting what they thought were bombs at a Jewish temple.
Federal Judge Colleen McMahon said the men were motivated by hatred for Jews.
But their lawyers said they were duped by a paid FBI informant and never posed a threat.
The men were convicted in October of conspiracy to use weapons of mass destruction and other charges following testimony from FBI informant Shahed Hussain, who met Cromitie at a mosque north of New York City.
A fourth man, Laguerre Payen, was also convicted but his sentencing was postponed pending a psychiatric evaluation.
'Ticking time bombs'
Prosecutors said the men tried to detonate what they thought were explosives at a Jewish centre in the Riverdale section of the Bronx borough of New York, and plotted to fire missiles at New York Air National Guard planes at a base north of New York.
In surveillance video played at trial, the men were seen examining a shoulder-fired missile launcher in a warehouse.
Jurors also heard recordings of Cromitie, the alleged ringleader, ranting against Jews and saying he wanted to exact revenge against the US for military aggression in the Middle East.
Judge McMahon acknowledged the men never posed a legitimate threat, as they were under surveillance during most of the case and never possessed genuine explosives or weapons.
Lawyers for the men argued the federal government had manufactured the crime, saying the four defendants were motivated by small amounts of cash and meals the informant provided.
But prosecutors had called the men "ticking time bombs".
"This would have been a colossal terrorist attack and the fact that it was all fantasy really doesn't matter because in their minds, they thought it was real," Assistant US Attorney David Raskin said.