Obama hopeful on reaching US debt deal with Republicans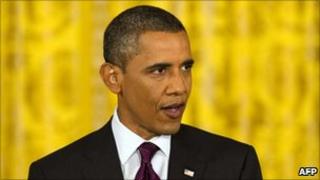 US President Barack Obama has said he expects to reach a deal with Republican lawmakers on reducing national debt.
"We will reach a deal that will require our government to live within its means," he told news conference.
But Mr Obama said getting rid of tax breaks for oil companies and wealthy Americans must be part of any reduction plan, a move Republicans have opposed.
With the deficit set to hit $1.4tr (£873bn) this year, Republicans want spending cuts.
"The tax cuts I'm proposing that we get rid of are tax breaks for millionaires and billionaires, tax breaks for oil companies and hedge fund managers and corporate jet owners," President Obama told a White House news conference.
The president said both Republicans and Democrats must be prepared to "take on their sacred cows" as part of the deficit-reduction negotiations.
Leaders of both parties agree to the need to trim the budget, but Republicans have refused to allow tax increases, while Democrats have vowed to protect costly social programmes.
Mr Obama said on Wednesday that though some of the social programmes backed by Democrats are beneficial, "we cannot afford them right now".
"We're going to keep on having these conversations, and my belief is that Republican leadership in Congress will sooner than later decide they need to make the right decisions for the country," Mr Obama said, referring to ongoing negotiations over the deficit.
Without an agreement that cuts long-term deficits, Republicans say they will not vote to increase the nation's borrowing.
The US treasury has warned the country risks default if Congress does not authorise more borrowing by August.