New Orleans police go on trial over Katrina shooting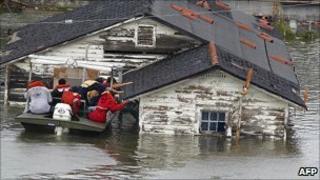 Five police officers charged over a fatal shooting in the chaotic aftermath of Hurricane Katrina in August 2005 have gone on trial in New Orleans.
Two unarmed residents were killed and four others wounded in the incident on the Danziger Bridge.
Prosecutors say the officers decided to "shoot first and ask questions later" and then tried to cover up the crimes.
Defence lawyers say their clients feared for their lives and were justified in using deadly force.
Most of New Orleans was flooded by the hurricane and there was widespread looting and violence in the storm's aftermath.
Prosecutor Bobbi Bernstein said police plotted to plant a gun, fabricate witnesses and falsify reports to cover up what they had done.
He said they tried to use the chaotic conditions created by the hurricane as an excuse for gaps in their investigation.
"They lied because they knew they committed a crime," Mr Bernstein said.
"They lied because they knew police officers were not allowed to shoot first and ask questions later."
Charges 'fiction'
Former officer Robert Faulcon, Sgt Robert Gisevius, Sgt Kenneth Bowen and officer Anthony Villavaso are charged with the shootings that killed James Brissette, 17, and Ronald Madison, 40.
Retired Sgt Arthur Kaufman is charged with the alleged cover-up.
Paul Fleming, lawyer for Mr Faulcon, said the officers "did the best they could".
"These men are innocent," he said. "These five had one thing in common - they stayed."
Frank DeSalvo, lawyer for Mr Bowen, called the government's case a work of "fiction"
The shootings happened on the morning of 4 September 2005, less than a week after Katrina made landfall.