Ex-Illinois Governor Blagojevich guilty of corruption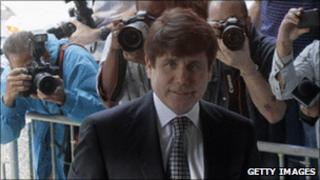 Former Illinois Governor Rod Blagojevich has been found guilty of trying to sell the US Senate seat once held by President Barack Obama.
In his second trial in a US federal court in Chicago, Blagojevich was found guilty on 17 of 20 corruption charges.
He was also found guilty of trying to extort funds from a hospital executive.
The Democrat was arrested in December 2008 and ejected from office the following month. He had already been found guilty of lying to investigators.
Blagojevich faces a sentence of up to 300 years in prison.
"I'm very disappointed in the outcome," he told reporters after the verdict was read. "Frankly I'm stunned. There's not much left to say except we want to go home to our little girls and sort things out."
He is the second Illinois governor in a row to be convicted on federal charges. His predecessor George Ryan, a Republican, is currently being held in federal prison.
Personal gain
In Chicago, Blagojevich was acquitted on one count of soliciting a bribe from a toll road authority. The jury failed to reach a verdict on two other counts.
Blagojevich, 54, was elected governor of Illinois in 2002 and served until 2009, when the state legislature threw him out of office following his arrest on corruption charges.
As governor, Blagojevich was tasked under law to appoint someone to fill the US Senate seat left vacant when Mr Obama won election to the White House.
Most of the case against him stems from accusations he sought to sell the appointment in return for personal gain.
'Golden' opportunity
He was also convicted of trying to extort campaign donations from business executives, and of soliciting bribes from racing officials.
Blagojevich was convicted by a jury of 11 women and one man, which deliberated seven days.
Among the evidence against him prosecutors presented hours of FBI wire taps, including a recording in which Blagojevich was heard describing the Senate appointment as a "golden" opportunity.
His defence lawyers argued Blagojevich was just talk, with no corrupt intent behind it, and they noted no money was exchanged.