Obama meets Senate leaders over raising debt ceiling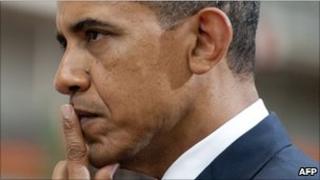 President Barack Obama is meeting Senate leaders negotiating on spending cuts and raising the US debt ceiling, as a deadline for action looms.
Mr Obama and Vice-President Joe Biden had what officials said was a "constructive" meeting with Senate Democratic Majority Leader Harry Reid.
Mr Obama was due to meet Republican leader Mitch McConnell later on Monday.
The US treasury department has warned the US risks default if Congress does not authorise more borrowing by August.
"The president told me that everyone in the room believes that a significant deal remains possible," White House spokesman Jay Carney told reporters about Mr Obama's meeting with Mr Reid and Mr Biden.
The White House meetings come after senior Republicans walked out of talks on Thursday over raising the US debt limit.
Leaders of both parties agree to the need to trim the budget, but differ greatly in their approach.
'Balanced approach'
Republican leaders have told the White House they will not accept Mr Obama's demands to close tax loopholes and raise tax rates on wealthy Americans.
"I intend to ask the president what he's prepared to do, outside of raising taxes, about the massive deficits and debt that have accumulated on his watch," Mr McConnell said in the Senate.
The White House has said Republicans want to use the negotiations with the Obama administration to secure tax loopholes for corporations, tax breaks for the wealthy and subsidies for oil and gas firms.
"We have to have a balanced approach so that no sector of society, not the middle class, not seniors, not any one segment of the business community, has to bear any disproportionate burden," Mr Carney told reporters on Monday.
The US national debt is $14.3 trillion (£8.7 trillion), and the annual budget deficit is roughly $1.4 trillion.
Without an agreement that cuts long-term deficits, Republicans say they will not vote to increase the nation's borrowing.
The White House has warned that if Congress does not raise the debt ceiling, it could mean the first US financial default in history.