Can Niagara tightrope walk offer safety net for sagging tourism?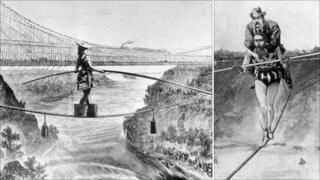 The New York state assembly has made an exception to a century-old ban on stunts at Niagara Falls, to allow a renowned tightrope walker to cross from one side to the other. But is this the right way to revive tourism?
Little more than half a century ago, few tourist attractions in North America could rival the Niagara Falls. Travellers journeyed from all over the world to marvel at the three waterfalls that cascade into the lakes separating New York State and Canada's Ontario Province.
The 1952 film Niagara, starring Marilyn Monroe, played on the falls' reputation as a romantic honeymoon location.
By then it had already been a major tourist destination for 150 years - first for wealthy travellers who could afford long journeys by carriage, then after the advent of the railway, for the middle classes.
At the same time, it flourished as a hydro-powered centre of industry, luring workers from all over the nation.
But eventually the manufacturers and chemical companies left, and other honeymoon destinations - such as Las Vegas and Orlando, Florida - put Niagara in the shade.
There are hopes today that New York's recent vote to legalise gay marriage may revive the wedding business.
But it is a different vote by the state assembly, to grant a licence to a world-famous tightrope walker to cross the Horseshoe Falls, that optimists think may do most to put the falls back on the map and boost flagging tourism revenue.
A century and a half has passed since Jean Francois Gravelet - known as Blondin - became the first person to to make the tightrope walk. He repeated it more than once - on one occasion he carried his manager on his back, on another he cooked an omelette on a small stove.
The artist now seeking to cross the high wire is Nik Wallenda - from a family famous for circus stunts and wire walking without safety nets.
"There is a need to boost tourism on the American side of the falls," Assemblyman John Ceretto, co-sponsor of the bill allowing the stunt, told the BBC News website by e-mail. He said that the event, which could take place as early as this summer, would be the first of a series of events to help draw more attention to the region.
"I don't anticipate this one-time event to be a long-term solution," he said. "Nik's performance needs to be seen as a catalyst that will spark attention to the region and help ignite a long-term strategy to rehabilitate the Niagara Falls region as a pre-eminent tourist destination."
The approval of the Canadian side is needed but Assemblyman Ceretto said the Americans had received "positive feedback and co-operation from Canadian officials".
But not everyone is happy with what they describe as the "carnival atmosphere" that such an event would create.
An editorial in Canada's Niagara Falls Review reminds readers that the parks commission was created in 1885 precisely to "protect the Niagara Falls and deliver it from the crass commercialism, stunting and hucksterism that dominated the 19th Century".
Paul Gromosiak, who has written a number of books on the falls - including a history of the daredevils who have gone over in barrels and other contraptions, or swum, or jumped over on jet skis - agrees.
"The falls will become nothing but a backdrop to circuses to entertain people. We should be celebrating our history," says the retired chemistry teacher.
"This is a natural wonder we should be celebrating - not putting up ferris wheels."
He admits, though, that the proposed stunt may be popular with residents who have become "desperate for work and to see the area return to its glory days".
"Some two-thirds of the population of the city of Niagara Falls are retired, they are nostalgic for the past, if they perceive this as offering prosperity they will be behind it," he says.
A local newspaper has described him and other opponents as "relics from the past".
Assemblyman Ceretto, also, is unmoved by their objections.
"I understand that people are concerned about 'carnivalising' of the Falls and bringing it back to the days of daredevils going over the Falls in barrels," he says.
"Fortunately, more and more people are beginning to realise and appreciate the value of this exciting tourism opportunity. This is not a stunt. This is a professional, world-class performance that the world will be watching."
Stunts can go wrong, though. In 1974, daredevil Evel Knievel attempted a televised jump across the Snake River Canyon in Idaho using a rocket-powered motorcycle.
Amid a series of malfunctions, an emergency parachute opened prematurely and he floated back down to earth.
In this case, any hitches could be fatal.
Nik Wallenda, however, views it as a walk in the park.
"For me walking a wire is very peaceful believe it or not - it's not very nerve-wracking - it's amazing the solitude that I get," he told the BBC World Service this week. "[The Niagara] walk is just under 2,500ft (760m) across and 200ft (61m) above the water - it will probably take me about 45 minutes."
He said he had been training since the age of two for such a challenge.
"I also have a permit to walk across the Grand Canyon, which is another huge one. But this is one of the biggest for sure - the complexity of it - the fact that I'm walking over water, which could be a distraction, the fact that I am so high up. It's going to be extremely humid. It's just an amazingly beautiful walk. It's the beauty of everything underneath me and the water flowing behind me."
Wallenda, whose German-born grandfather Karl died trying to walk between the two towers of the 10-storey Condado Plaza Hotel in San Juan, Puerto Rico, says tightrope walking is safer than other illegal stunts that have taken place at the falls.
"Everybody that walks a tightrope is very highly skilled, whereas you could pretty much put anyone in a barrel and push them over the edge of the fall. There is a lot of training involved in what we do," he said
"To me life is on the wire and everything else is just waiting."
Officials backing the act will be crossing their fingers - and hoping it can provide a safety net for the area's local tourism.