Republicans walk out of debt talks with Joe Biden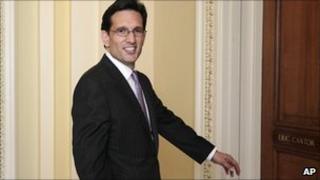 Republican negotiators have walked out of talks with US Vice-President Joe Biden on how to reduce the country's debt.
The US treasury department has warned the US risks default if Congress does not authorise more borrowing by August.
Mr Biden said it was now up to President Obama and leaders of the Republicans and Democrats in Congress to decide on the way forward.
The Republicans are resisting Democrat proposals for tax rises in any deal.
Clock ticking
They say that such tax increases - amounting to as much as $400bn (£249bn) on corporations and the wealthy, according to the Washington Post - will stifle economic recovery.
The Democrats oppose Republican proposals for steep cuts to health and retirement programmes.
The two sides need to reach an agreement that will enable Congress to raise the $14.29tr (£8.7tr) debt ceiling before 2 August, or the US risks defaulting on its debt.
This could send the US back into recession and throw global markets into turmoil.
In a statement after the meeting, Mr Biden said a "balanced approach" was needed with savings made across all areas, from domestic spending to "loopholes in the tax code".
"We all need to make sacrifices, and that includes the most fortunate among us," he said.
Mr Biden said it was now up to party leaders "to determine the scope of an agreement that can tackle the problem and attract bipartisan support".
Republican House Majority Leader Eric Cantor, who led the walk-out of the talks, said it was time for President Obama to "speak clearly and resolve the tax issue".
Republican House Speaker John Boehner was adamant. "Let me be clear: tax hikes are off the table," he said.