Pair charged with plotting to attack US military target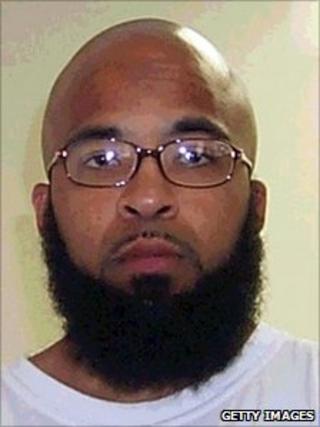 Two men have been arrested and charged with plotting to attack a US military recruiting station in the city of Seattle with machine guns and grenades, the justice department has said.
Abu Khalid Abdul-Latif, 33, of Seattle, and Walli Mujahidh, 32, of Los Angeles, were arrested on Wednesday evening.
The men are charged with attempting to murder US employees, conspiracy to use grenades and other firearms offences.
They were arrested after they contacted a third man, who alerted police.
Officials said Mr Abdul-Latif, also known as Joseph Anthony Davis, and Mr Mujahidh, also known as Frederick Domingue Jr, were Muslim converts.
It is alleged that they planned to attack a station in Seattle in Washington state where military enlistees are processed.
Agents became aware of the plot earlier this month through an individual the two men attempted to recruit for the plot.
Prosecutors said the two men initially planned to attack the Joint Base Lewis-McChord in Washington, but later switched to the processing centre.
Mr Abdul-Latif said the attack would be in retaliation for alleged crimes by US soldiers in Afghanistan, according to an FBI document setting out the alleged crimes.
"Abdul-Latif explained that, in his view, murdering American soldiers was justifiable," the affidavit said.