US to release 30m barrels of oil from strategic reserve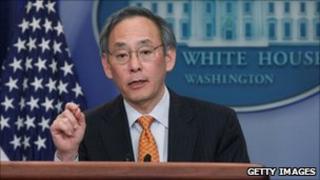 The US is to release 30 million barrels of oil from its strategic petroleum reserve as part of a global effort to reduce disruption to oil supplies.
Energy Secretary Steven Chu said the release of oil was in response to supply disruptions caused by unrest in the Middle East and North Africa.
Officials said the US reserve was currently at a historically high level.
US fuel prices have risen steeply during 2011, increasing domestic pressure on President Barack Obama.
"We are taking this action in response to the ongoing loss of crude oil due to supply disruptions in Libya and other countries and their impact on the global economic recovery," said Mr Chu in a statement released by the White House.
"As we move forward, we will continue to monitor the situation and stand ready to take additional steps if necessary."
The US energy department said the unrest in Libya has cost the global oil markets roughly 1.5 million barrels per day.