River floods North Dakota city Minot after evacuations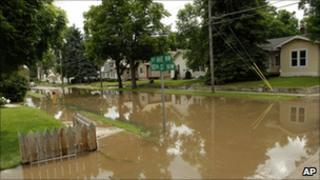 The Souris River has begun flooding into Minot in the state of North Dakota, following the evacuation of about 12,000 of the town residents.
Sirens sounded throughout the city around 1300 local time on Wednesday (1800 GMT), alerting residents of an impending deadline to evacuate.
Heavy rainfall has bloated the river, which flows down from Canada.
Meanwhile, an oil boom in the state has left few hotel vacancies available for flood refugees, local officials said.
The Souris River is expected to hit nearly 1,563ft (476m) above sea level this weekend, topping the previous flood record set in 1881.
"We are trying to patch up as many holes [in flood barriers] as we can to give people as much time as we possibly can to get them out safely," said Minot Fire Department spokesman Dean Lenertz.
As part of a flash flood warning, the National Weather Service said residents "in the mandatory evacuation zones should be moving to higher ground now".
Heavy rains and melting snow have raised water levels in Canadian reservoirs in the Souris River basin during the past several weeks, forcing unprecedented water releases further south in North Dakota.
"There are no hotel rooms, no campers to rent, nothing," Aquira Fritt, who planned to spend the night in a van with her boyfriend and five-year-old son, told the Associated Press on Wednesday.
"It's very stressful and it's very annoying."
Minot is North Dakota's fourth largest city, with a population of roughly 40,000.