California stops lawmakers' wages until budget balances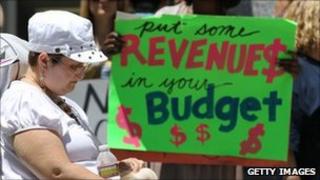 Elected representatives in California have been told their wages and expenses have been stopped and they will not be paid until the state budget balances.
State Controller John Chiang took the step after determining that the budget approved last week was not balanced.
It is the first time a law brought in last year, to stop California constantly missing its annual budget deadline, has been brought into effect.
Mr Chiang's decision sparked sharp criticism from legislators.
'Questionable manoeuvres'
It is often said if the state of California was a country it would be the eighth biggest economy in the world.
But with a $10bn deficit to match, and residents fed up of legislators missing the annual budget deadline by months, they voted for a new law.
It is the first time Proposition 25 has been put into effect - and it means all 120 elected members of the State Assembly and Senate will not be paid their wages, or their living allowances, until they pass a balanced budget.
There was obvious uproar from the legislators.
Last week, for only the second time in 20 years, they actually passed a budget on time - only for it to be vetoed by Governor Jerry Brown.
He said it contained "questionable manoeuvres" to cover up the real figures and would increase, rather than reduce the state deficit.
It was an opinion shared by Mr Chiang, who declared it "miscalculated, miscounted or unfinished" and $1.8bn short.
So the financial pressure is on for Californian Republicans and Democrats to compromise.
The issue is one which resonates across the US, and in many parts of the Western world - the ideological question of spending cuts versus tax increases.
Mr Brown has cut spending in the state, but he wants tax increases.
Legislators are critical of the decision and talk of a legal challenge, but minds may be more malleable when the pain is felt in their pockets.