JP Morgan Chase settles US mortgage fraud case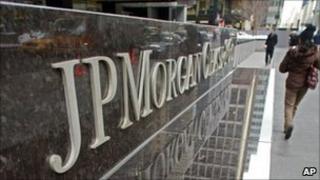 JP Morgan Chase has agreed to pay $153.6m (£94.6m) to settle charges that it misled the buyers of complex mortgage investments as the US housing market was collapsing in 2008.
Regulators said the bank's securities division had failed to tell customers that a hedge fund had helped select the portfolio, and then bet it would fail.
The fine means investors who lost as a result will get their money back.
JP Morgan neither admitted nor denied any wrongdoing under the settlement.
The bank said it had lost nearly $900m on the investment and that it had reviewed similar mortgage investments and paid $56m to some investors.
'Baffling'
The settlement announced on Tuesday by the Securities and Exchange Commission (SEC) came a year after another big Wall Street bank, Goldman Sachs, paid $550m to settle charges relating to a similar fraud.
In a statement, the SEC said JP Morgan Securities, a division of the bank, had "misled investors in a complex mortgage security transaction just as the housing market was starting to plummet".
It alleged that the bank had structured and marketed a synthetic collateralised debt obligation (CDO) called Squared CDO 2007-1 without informing investors that the hedge fund, Magnetar Capital, had helped select the assets in the CDO portfolio and bet $600m against them.
"As a result, the hedge fund was poised to benefit if the CDO assets it was selecting for the portfolio defaulted," it added.
JP Morgan sold $150m of Squared CDO notes to investors worldwide. They lost most of their value in just 10 months, the SEC said.
Under the settlement, JP Morgan agreed to pay a $133m fine, plus $20.6m of improper profits and interest. About $125.9m will go to investors in the Squared CDO, and $27.7m will go to the US treasury department. The bank will also change its policies for reviewing and approving offerings of mortgage securities.
No individual bankers were charged, but the SEC said it had also charged with misleading investors a former managing director of GSC Capital, Edward Steffelin. The investment advisory firm was supposed to have selected the CDO's portfolio.
The SEC alleged that he knew that Mr Steffelin was directly involved in choosing the securities and that he was seeking a job with Magnetar.
But a lawyer for Mr Steffelin said he "did not work for the underwriter and had no responsibility for the contents of the offering memorandum".
"We are baffled by the SEC's decision to proceed against an individual in a contested proceeding on a negligence theory," Alex Lipman told the Reuters news agency.