Wildfire kills two forest rangers in Florida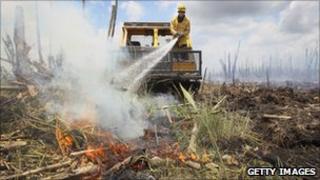 A wildfire in Florida has claimed the lives of two forest rangers, as emergency services continue to battle more than 400 blazes across the state.
The rangers had been trying contain a 12-acre (4.8-ha) blaze near the Georgia border, but the fire flared up and trapped them, officials said.
Two others were injured trying to save Josh Burch, 31, and Brett Fulton, 52.
The news comes as responders continue to battle thousands of fires in regions of Arizona, Texas and New Mexico.
The fire in which the rangers died - the Blue Ribbon Fire in Florida's Hamilton County - was burning roughly 85 miles (136 km) north-east of the city of Tallahassee and had previously been considered contained.
"The wildfires have ravaged our state, burning more than 200,000 acres, and now, they have taken the lives of two of our very own men," Agriculture Commissioner Adam Putnam said in a statement.
The deaths mark the first time anyone working for the Florida Division of Forestry has died from fighting a blaze since 2000, when a helicopter pilot crashed after dumping water on a wildfire near the town of Fort Myers.
"The weather can change in Florida very quickly and that's what we experienced," state forestry director Jim Karels told the Associated Press news agency.
Meanwhile, a fast-moving fire in Grimes County in Texas destroyed about 35 homes on Tuesday, after burning more than 4,000 acres.
The blaze was started when homeowners near the town of Stoneham lost control of a fire in their grill.
The largest of the US wildfires is considered to be the Wallow Fire in eastern Arizona and western New Mexico, which officials said on Tuesday had burned more than 525,000 acres and was 56% contained.
Roughly 10,400 firefighters are involved in efforts to contain wildfires across the US, with more than 7,000 of them in Arizona and New Mexico, according to the National Interagency Coordination Center.