Wal-Mart women denied discrimination class action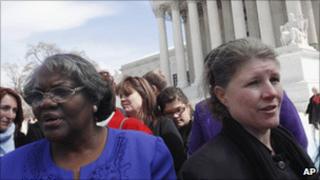 The US Supreme Court has dismissed the largest class action lawsuit in history, ruling against women alleging discrimination by US giant Wal-Mart.
The court ruled that 1.5 million women who said they were paid less because of gender must pursue action individually.
Plaintiffs had sought to unite more than a million women in their effort.
The court accepted Wal-Mart's argument that the women work in diverse jobs in stores across the US and do have not enough in common for a class action.
'Literally millions'
The court ruling overturned a judgement by a lower appeals court that 1.5 million women who had worked at Wal-Mart retail stores could unite in the class action suit.
The women, led by a group of named plaintiffs, sought back pay and punitive damages for the class of women, saying the company passed female employees over for promotion and paid them less.
Their legal action relied on statistical evidence about pay disparities between male and female employees and anecdotal reports of individual cases of discrimination.
The court ruled that the women could not show common "questions of law or fact" that held for all the women in the proposed class (any woman who has worked for one of more than 3,400 Wal-Mart stores in the US since December 1998).
"Here, [the group of women employees] wish to sue about literally millions of employment decisions at once," Justice Antonin Scalia wrote.
"Without some glue holding the alleged reasons for all those decisions together, it will be impossible to say that examination of all the class members' claims for relief will produce a common answer to the crucial question 'why was I disfavoured.'"
Mr Scalia also noted that Wal-Mart's written policy did not allow gender discrimination, and did not have any testing procedure or evaluation method that could be shown to be biased.
The BBC's Paul Adams says plaintiffs can still pursue their claims individually, but the implications for Wal-Mart would obviously be much less significant than a suit which could have cost one of the world's biggest private companies billions of dollars.
Management disparity
In a dissenting opinion, the court's four liberal justices agreed the Wal-Mart case did not merit a class action, but would have taken a less narrow view of the requirements for a class action suit over back pay.
"The dissenters... are more favourably inclined to class action lawsuits," Tom Goldstein, who has argued 24 cases before the Supreme Court, told the BBC.
"They would not close the door to big suits like this so easily, whereas the majority is very concerned about the company's ability to defend itself against each employee."
Justice Ruth Bader Ginsburg, who wrote the dissent, noted that 70% of positions paid by the hour in the retailers' stores are women, but that women hold only 33% of management roles.
"The plaintiffs' evidence, including class members' tales of their own experiences, suggests that gender bias suffused Wal-Mart's company culture," Ms Ginsburg wrote.
She was joined by the two other women on the court, Justices Sonia Sotomayor and Elana Kagan, and Justice Stephen Breyer.