Republicans cut short Obama impersonator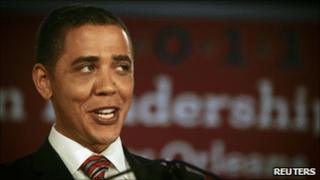 An Obama impersonator was shown off the stage at a Republican gathering after making jokes about the party's White House contenders and the real president's mixed-race heritage.
Reggie Brown mocked the Mormon faith of Republican hopeful Mitt Romney.
He also said President Obama, who had a black father and white mother, celebrated half of Black History Month.
Mr Brown's microphone at the Republican Leadership Conference was cut off when he made a joke about the Tea Party.
Initially the audience applauded when Mr Brown made jokes about Anthony Weiner, the disgraced Democratic Congressman who resigned after sending lewd photographs of himself to women.
Tea Party target
But then Mr Brown began ridiculing Republican presidential candidates.
He said if former Massachusetts Governor Mitt Romney were to become president, he would have his "first lady, second lady, third lady". The Mormon church outlawed polygamy in the 19th Century.
Mr Brown said former Minnesota Governor Tim Pawlenty missed the conference because he was having his foot removed from his mouth.
He added that the operation would be covered under President Obama and Mr Romney's respective healthcare reforms, along with spinal transplants.
Mr Pawlenty had criticised Mr Romney's healthcare initiatives in Massachusetts, but failed to challenge him directly when the two took part in a candidates' debate last week.
Mr Brown then turned his attention to President Obama, saying the president was born in Hawaii, "or, as the Tea Partyers call it, Kenya".
The ultra-conservative Tea Party wing of the Republican Party had questioned the legitimacy of Mr Obama's presidency, claiming he had been born outside the US and was thus ineligible to hold the highest office in the land, as mandated under the constitution.
Mr Obama produced his long-form birth certificate in May, silencing all but a hard core of doubters.
When Mr Brown launched into a gag about Tea Party stalwart Michele Bachmann, his microphone was cut off, the music swelled and the comedian was ushered from the stage.