John McCain blames Arizona fires on illegal migrants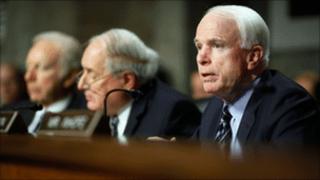 US Senator John McCain has blamed illegal immigrants for starting some of the huge wildfires that have devastated the state of Arizona in recent weeks.
Arizona's Republican senator accused migrants of setting fires either to signal others, keep warm or distract border guards.
The comments by Mr McCain prompted a sharp rebuke from Latino rights advocates, CNN reported.
The fires have already gutted some 700,000 acres (283,279 ha) of land.
'Careless' remarks
Mr McCain's comments came during a news conference in Phoenix, Arizona, on Saturday.
The senator said: "There is substantial evidence that some of these fires have been caused by people who have crossed our border illegally."
However, he did not provide any details of the evidence he cited.
Mr McCain also suggested that "the answer to that part of the problem (fires) is to get a secure border".
In response, Latino rights campaigner Randy Parraza called his comments "careless and reckless", CNN reports.
He said the senator "should know better" than to make such an accusation without presenting any facts, adding: "It's easier to fan the flames of intolerance, especially in Arizona."
In May, the US Supreme Court upheld a controversial law in Arizona that imposed penalties on businesses that hired illegal immigrants.