Vancouver riots: A kiss amid the chaos?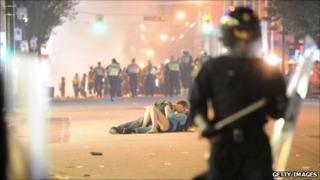 In the aftermath of the ice hockey riots which broke out in Vancouver on Wednesday night, the Canadian public have been left asking two questions.
Firstly, how did their city, considered by many to be one of the world's most pleasant to live in, come to be the scene of such wanton violence? And secondly, was that really a photograph of a couple locked in a passionate embrace lying in the street between rioters and police?
Amid images of burning cars, furious faces and smashed shop windows, the couple seem almost serene - he romantically leaning over, her arm on his neck and her skirt raised.
The photo has gone viral, has its own Photoshopped meme and a @kissingcouple now have a Twitter account.
"What were we thinking?" says the second of the two posts so far.
'Visible pain'
But details are emerging which suggest the battlefield clinch may not be all it seems and that instead of a moment of careless abandon the woman may have been injured in the unrest and was being comforted rather than embraced.
"The police line rushed the crowd and this couple trying to stay together couldn't react in time and were run over by two riot police officers," a man called William who said he witnessed the incident told the Vancouver Sun.
"The girl who was knocked over landed head first on the pavement with her boyfriend landing partially on top of her. She was in visible pain, crying, but the two officers gave them a parting shove and moved on. Bystanders went to make sure she was OK."
Another person wrote on an ice hockey fan site that the police had contained the area but left the couple alone.
"The girl appeared to hurt her ankle and that is why the photo was able to come into existence," he said.
Vancouver police have not commented on what happened and there are few official details on the incident. It is not yet known whether the woman was among some 150 people who needed hospital treatment.
A second image taken from another angle does little to clear up the mystery. It shows the couple on the ground but surrounded by people - some have said this shows they were in need of help while others have suggested it is proof the whole thing was staged.
But photographer Richard Lam - who said that at first he had no idea of the drama he had captured - thinks this is unlikely.
"What you don't see in the frame is that 20ft beyond is the mounted [police] squad, on horseback. I don't think they were in any mood for people to be playing around setting something up like this," he told the Atlantic Wire.
"I wasn't hanging around at all, it was chaos. Maybe someone had a really brilliant idea to do it, I don't know. I don't want to speculate. The police line had just moved, there was tear gas, people were getting pepper sprayed, there was a lot going on."
A woman in Australia has now come forward to say the man is her son, Scott Jones, and that the woman is his Canadian girlfriend, Alex Thomas.
"It is something he would do, that's our boy," Megan Jones told NineMSN.
"He has always lived in his own world, he's special like that. He doesn't always connect with what's going on around him. He just reacts and the whole world goes on around him."
She added that her son has been doing some standup comedy while in Canada, prompting suggestions this was an attempt by him to create some new material for his act.
Mr Jones' family said his Facebook page was covered with comments from friends who had spotted him in the international news coverage of the riots.
His reported response: "Classic! This was shortly after the riot police run over the top of us and naturally Alex needed some comforting."
As Vancouverites take to the streets again, this time to clear up the mess left behind by some of the worst rioting in the city's memory, some Tweeters have suggested solving the mystery of the couple may not be a priority.
"People, if you have time to hunt for the kissing couple maybe you could help identifying the rioters first," wrote Eltaria.