Boehner warning to Obama over Libya mission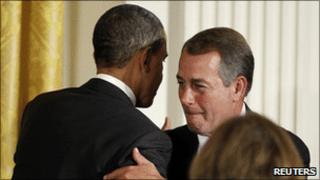 The Republican speaker of the US House of Representatives has accused President Barack Obama of "a lack of clarity" and "lack of visibility and leadership" over the Nato mission in Libya.
In a letter, John Boehner warns Mr Obama US operations in Libya must stop by Sunday unless the president gets the approval of Congress.
He writes: "The administration has not asked for, nor received, congressional authorization of the mission in Libya. Therefore, it would appear that in five days, the administration will be in violation of the war powers resolution unless it asks for and receives authorization from Congress or withdraws all US troops and resources from the mission."
It is likely Mr Boehner is acting under pressure from his own Republican colleagues, who are sensitive to any suggestion they are being ignored. He may have taken notice of the hostility towards the Libya operation shown by the candidates in the New Hampshire debate.
But this is less about a foreign war and more about attacking the president and depicting him as arrogantly exceeding his authority and ignoring the constitution.
The president may not take much notice. He argued early on that this was an action by Nato, covered by a UN resolution, and suggested that he did not need to do any more than keep Congress informed.
But the Sunday deadline gives the speaker and the president something to talk about when they play golf together at the weekend.