Canada recognises Libya rebels as 'legitimate'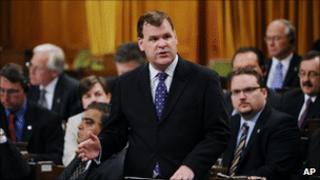 Canada has recognised a coalition of Libyan rebels as the "legitimate representative" of the Libyan people.
In Ottawa, Foreign Affairs Minister John Baird pledged to hold talks with the National Transition Council (NTC).
Canada also promised 2m Canadian dollars ($2m; £1.3m) in humanitarian aid to the country, including to prevent sexual violence against women.
The NTC emerged from the forces that launched a revolt against Libyan leader Col Muammar Gaddafi's rule in February.
"Our government will engage with the institutions and representatives of the NTC," Mr Baird said, Canadian Press reported.
"We will identify members of the NTC responsible for domestic issues and propose meetings with their Canadian counterparts. We will also happily arrange meetings between NTC members and honourable members of [parliament]."
With the move Canada joins about a dozen nations, including Australia, France, Germany, Italy, Jordan, Spain and the UK, that have recognised the rebel group as the "legitimate representative" of the Libyan people.
However, Ottawa stopped short of recognising the group as Libya's government.
Meanwhile, the Canadian parliament is debating whether to extend the country's participation in the Nato-led no-fly zone over Libya.
In parliament on Tuesday, Mr Baird said Canada's goal in Libya was to "to protect civilians", but he added "it goes without saying that at the political level... most actors believe Col Gaddafi must go."
Of the aid package, 1.75m Canadian dollars will go to the International Committee of the Red Cross and the Red Crescent Societies of Libya, Tunisia and Egypt, CBC News reported.
The remainder will be pledged to the United Nations Population Fund to protect women and girls from gender-based and sexual violence.